Summary
Just to begin, my name is Emily. I was born in 1973, which makes me 46 as of the time of this writing. I'm a Caucasian woman of the short, round, blond, blue eyed variety. I've lived all over the US but have called Washington State home since 2003. I live in Puget Sound.
First acute balance issues: Balance was already on the way out with dizziness since my 20s. I first started Vestibular Rehab Therapy in 2018 to deal with disabling visual vertigo that meant 15 minutes of screen time resulted in intense nausea, vertigo and fatigue that took days to recover from. The truly acute phase began with a week long, rolling brain stem aura whopper of a migraine in September 2017. The ER IV cocktail brought the pain down but my vestibular system never recovered. VRT and medication have improved that greatly. I now have little practical limits to screen time if I observe proper MAV lifestyle hygiene.
Number & duration of acute phase(s): I've had chronic symptoms for 20+ years. A mildly acute phase started in 2015 and lasted to spring 2017. A truly acute and disabling phase started in September 2017 and is on-going.
Any suspicious physical event/trauma leading up to dizziness: No.
Start of chronic phase: I have never known life without some MAV symptoms. It became most evident in my early 20s. It became disabling in September 2017.
Age at chronic onset: 20
Started medication: January 2018
Stopped medication: N/A
Number & type of consultants seen to date: 3 neurologists, 1 ENT, 1 neuro-ophthalmologist, 1 audiologist, 1 VRT physical therapist, 1 atlas orthogonal chiropractor, 1 Rolfing massage therapist, 2 general practitioners, 1 homeopath, 1 counselor
Diagnoses received: Vestibular Migraine, Brainstem Migraine, Visual Snow Syndrome, Vestibular Paroxysmia
Medications used successfully for MAV: Venlafaxine though I discontinued when it became clear that was the source of both suicidal ideation and my increasingly bad blood results (from weight gain and the nature of the drug with respect to glucose metabolism). I'm currently trialing 160 mg of Propranolol which I use as a direct replacement for my prior beta blocker. Rescue drugs of choice are Fioricet, Compazine, Meclizine and cannabis.
Failed medications for MAV: Topirimate which made me feel and look like I was dying of radioactive poisoning, Amitriptyline which gave me high blood glucose and exacerbated other co-morbid conditions. Nitroglycerin. Venlafaxine - see above.
Non-pharmalogical treatment tried which helped: Nutritional ketosis, regular exercise, Petadolex, Dolovent
Non-pharmalogical treatment tried which didn't seem to help: various herbs and supplements
Dietary triggers identified: Caffeine, Sugar, Alcohol
Any hearing loss in either ear: Right ear, in the high Hertz ranges from botched surgery
Persistent or intermittent tinnitus and character: Intermittent left; high pitched, continuous whine on the right since March 2017.
Other chronic conditions I'm suffering from: PCOS, Endometriosis, TMJD, Eustachian Tube Dysfunction, Atlas Subluxation, Hypothyroid, High Blood Pressure, Metabolic Syndrome, impaired kidney function, major pelvic and lower abdominal surgical adhesions and Pelvic Symphysis Disorder, Neuropathy, bunions (see my graph below which I created to shorten intake appointments)
Medication I'm taking for other conditions: Levothyroxine, spironolactone
Any personal history of migraines: Yes, starting in 2014 on a chronic basis.
Any family history of migraines: Both parents though Mom only had it once or twice.
Any history of ear problems: Eustachian tube disorder and I imploded the left ear drum on a flight descent when I was a teenager (my personal standard for intolerable pain). I had ear tubes placed March 2016.
How did friends, family, and doctors react to your symptoms? That's what therapists are for.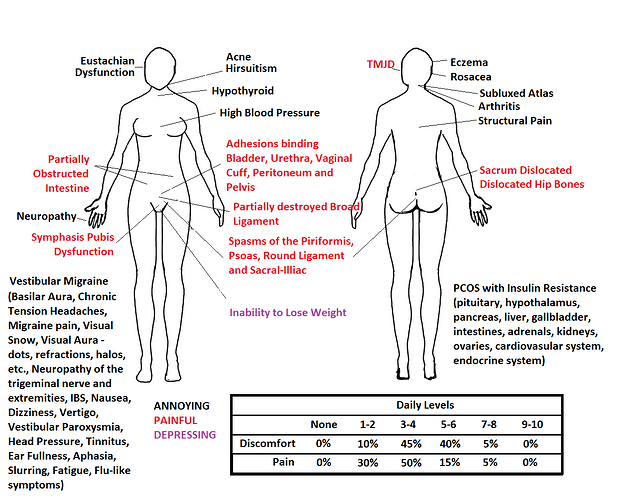 Ok, that's the basics. Later I'll muse. Or be amusing.