The website is upgraded regularly with the latest version of the Discourse engine. Very occasionally this can introduce caching issues.
A couple of us have noticed layout problems creeping in.
If anyone is having odd formatting issues with the forum on desktop, please try clearing your Browser's Cache. Also make sure you are running the latest versions of your browser.
Here's how to clear the Cache on Chrome (it's not particularly user friendly!)
Here's the version of Chrome you should have (but anything in the '70's' should work):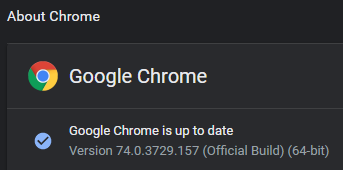 Best thing to try is clear cache:
Go to chrome://settings/ (you will need to copy and paste this link or go to the three dots in the menu bar and select Settings)
Go to Advanced -> Privacy and Security -> Clear browsing data …
and just select Cached Images and Files only and hit Clear data