Hey all,
For an experiment, I've added a visitor location widget to give everyone a flavour for where our visitors are coming from.
There's nothing to do to register your visit. It's entirely automatic. It records your visit to mvertigo regardless of whether you are logged in or not and marks you approximately and anonymously on the map. You also appear in a log below the detailed map. Both the log and the detailed map can be visited by clicking the small map.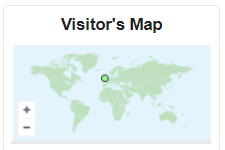 To see greater detail in the distribution of our visitors click on the map. (on the homepage, this is a screenshot!)
Privacy Considerations.
The system is intended to be fun rather than intrusive. This system will record your visit and log your IP, class of device (Windows, iOS etc.) and approximate location (derived from your IP address), just as this website did in any case. This is shared with https://clustrmaps.com. Their privacy policy is here ClustrMaps.com Privacy Policy. You are anonymous as far as they are concerned. There is no automated matching to username on this site, though because I log registered user visits IP addresses (normal practice) I could manually cross-reference a username with a location but this would be impossible for another user.
The location is fairly inaccurate*. The IP addresses are never shared with other users. I had these anyway as they are an important element when managing user access and site security. So please don't worry about your privacy.
Let me know if you have any concerns.
*I live in East London and it's currently logging me as being in Wolverhampton. I'm sure it's lovely there, but frankly, never been!

However, that's good enough and more or less within a pixel or two