The board seems very quiet recently. It seemed more active a while ago?
@DizzyandConfused your guess is as good as mine.
One of the ways activity is increased is that existing members help others and there's a virtuous cycle.
Helen's recent passing didn't help (she was very active bless her!) and I'm generally very busy, so administering the site technically is almost as much time as I get these days to pay attention to the site.
There have been zero donations for almost a year, so I cannot justify spending much time on it, since I already pay for all the infrastructure. Amazon affiliate links do not provide much return and do not cover the site costs.
Then again, if I quickly look at the stats, page views and sign-ups have been pretty similar for an entire year.
25 new people signed up this last month, which is slightly above average. They've just not piped up yet.
I know for myself, this site was an absolute godsend. And I mean that whole heartedly. I still actively read posts not only to keep abreast of up to date vertigo news, but to continue to follow the journeys of my friends and others who have helped me.
I donated a small amount a while back - because I needed this site. It's a good option sometimes to give back a little - only if you have the means to. James does an amazing job.
Thanks @Belindy appreciate the comments. You are a very valued member and I'm sure everyone appreciates your input and the support you give.
I think the site is an organic thing and it's also a niche condition, so the volume of traffic has to be judged against that.
Some may fear exposing themselves on the internet (but a very good mitigation is just to be careful with what information you share: you should really never expose your full real name, detailed location nor detailed job information (and if you have, contact me and I will help you delete anything too revealing without having to delete your entire posts).
Also another good indication of how busy the site is is the little map we have on the top right of the home page. You can see we have visitors from all across the globe. Clicking this should give you a more detailed view.
One thing to mention: use search as much as possible to leverage member's input who may have moved on and no longer frequent the site.
That feature also means the site doesn't get new threads that are just repeats of the same old questions, unlike the Facebook vm groups. I got so tired of people asking "anyone on amitryptaline?". But that also cuts down on site activity if people don't start new threads and look at old ones instead.
Just an unsolicited "sales pitch" and a reminder to donate to this site to help keep it running. I donated again yesterday. This site, and all of the members here, were a big key in helping me figure out my diagnosis and I hope my donation helps keep the site going and helps other members educate themselves and figure out their best treatment options!
Anna
Hi Jonathan, kind of you to consider, they are made via this page:
Or from homepage you can just click on the banner picture: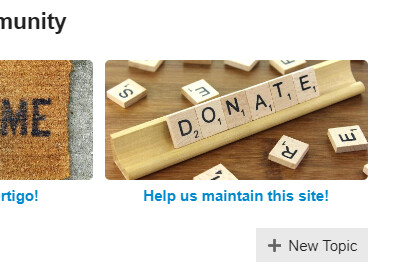 (Desktop view).
Just click on that link from the banner photo on the home page that James displayed. The nice thing is that it's through PayPal but you can use a credit card to donate, too. And it will take foreign dollars (I'm in the US but James is in the UK, which is where the site is hosted).