I wonder if there's an issue with discoverability for the Support Wiki?
We recently had a member not seeing the Symptom List Topic and they felt there needed to be one (fair enough if there wasn't one!)
However there was one, in #support-wiki and it's linked on the Welcome Topic.
this symptom Topic is the first of the list of contents in the Welcome topic which is sat above with a big doormat picture on Desktop so I think discoverability on the Desktop is ok?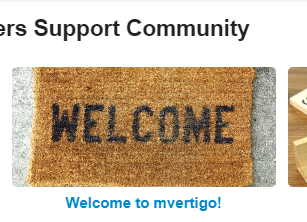 On mobile, however, the #support-wiki may need to be made more prominent on the site. It is a little buried once you've read the Welcome topic, although it's available as a link on the hamburger menu as "Welcome".
Then again, perhaps once you've been 'Welcomed', you don't think to revisit that since you've already been welcomed?
There are numerous important topics linked off Welcome.
Perhaps we just need to rename "Welcome", but it needs to work for new members as well as long-term members who may have forgotten its location and contents.
Also, on the mvertigo.org vestibular disorders support forum - mvertigo vestibular disorders support forum page, the #support-wiki category often appears at the bottom because it rarely gets updated.
If anyone has suggestions on how better to improve discoverability on the site, please feel free to make suggestions.